Longtime Chicago Catering Business Near Midway Airport Catches Fire Overnight – NBC Chicago
January 28, 2023
Emergency crews are on the scene after a catering business caught fire late Thursday near Midway International Airport, authorities can confirm.
According to Chicago Fire officials, a still and box alarm fire was reported at 11:35 p.m. Thursday in the 6300 block of South Central Avenue. Crews worked overnight and into early Friday morning, officials say.
Photos and video from the scene show firefighters on ladders using hoses to put out flames in what appears to be a burned and blackened building.
According to officials, there are no reports of injuries or displacements.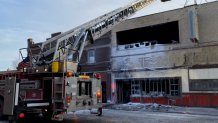 The catering business at that address, Georgis Catering, has been in business for more than 50 years and provides meals for dozens of executive services like large businesses and corporations, aircraft and yachts, and more, its website says.
A statement from the Meals on Wheels Foundation of Northern Illinois, which serves meals to 7,000 older adults and adults with disabilities in the Chicago area, confirms that they partner with Georgis for catering, and that their services will be impacted as a result of the blaze.
"We are devastated at the loss that our catering partner, George "Buz" Georgis at Georgis Catering has endured," a statement from the company reads.
"At our eight sites in Cook County in Brookfield, Berwyn, Hometown, South Chicago Heights, Phoenix, Lemont Township, and at one of our stand-alone cafés in Dolton, our clients will not receive hot meals today," the statement says. "While they will be provided with emergency shelf stable meals, we are searching for a new caterer and trying to connect with local restaurants as quickly as we can."
"We have been in touch with Buz and we hope that the community can support him as he has supported them in the past," the statement continued.
NBC 5 has reached out to Georgi's Catering for comment but has not heard back.
This story will be updated as more information becomes available.