Snap Judgments: Georgia football takes care of business in homecoming win over Vanderbilt – 247Sports
October 16, 2022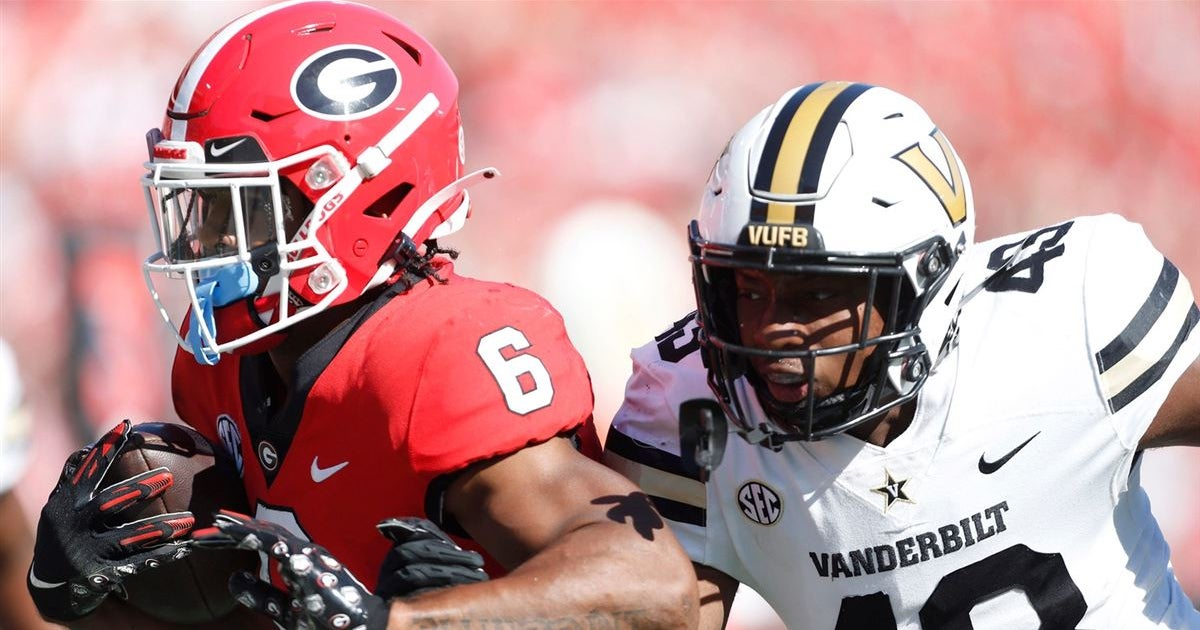 It didn't take long on Saturday for the Georgia Bulldogs to set the stage for another big win.
No. 1 Georgia jumped on Vanderbilt early and kept its foot down with four touchdowns on its first five drives on its way to a 55-0 shutout victory. The win featured a return to form for the Bulldogs, which leaned on a balanced offensive attack and a dominant defensive effort to build a sizable lead Saturday that the Commodores simply never threatened.
Saturday's four quarters of action gave us plenty to digest as the Bulldogs head into a bye week. Here's what stood out from what happened in Sanford Stadium.
That's more like it
I think it was completely fair for fans to be disappointed by Georgia's showings on offense against Kent State and Missouri and even the first quarter against Auburn. The Bulldogs seemed to be just ever-so off in those games, and in matchups with the Golden Flashes and the Tigers, they got in their own way with turnovers that helped their opponents hang around for much longer than anticipated.
On Saturday, the Bulldogs came out firing and didn't let up.
Georgia put up 28 points in the first half of action and followed it with 27 more points in the second half, including 21 points in the game's final quarter. The Bulldogs took advantage early and often against a Commodores team that has looked like an improved product in Clark Lea's second year, so much so that by halftime this game was decided.
The Bulldogs offense was relentless Saturday — at day's end, Georgia only punted once — and the defense held Vanderbilt in check for most of the 60 minutes of action. Given the talent difference on the two sidelines, that was more like what most watching the game expected.
A more balanced attack
What really struck me about Saturday's performance by the offense was how Georgia attacked Vanderbilt.
The Bulldogs started this season extremely pass-heavy, but during Saturday's action they were very balanced. In the first half, Georgia ran exactly 20 times and attempted 20 passes in a 30-minute stretch during which Georgia averaged 4.2 yards per carry and 11.7 yards per completion. Even after the second half that balance nearly stayed intact, as Georgia ended the game with 41 pass attempts and 38 runs.
It's worth keeping in mind that Saturday's success came against a Vanderbilt squad that likely will finish below .500 once again. Still, that ability to avoid being one-dimensional was worthwhile, and it allowed several different players to get involved.
Defense getting it done
Vanderbilt was no match for the Georgia defense Saturday, but to me the most impressive part of the Bulldogs' performance was how they simply did not let up.
Georgia had the game well in hand by halftime, but in the second half the Bulldogs remained unrelenting. The Bulldogs forced four straight three-and-outs to open the second half, which allowed Georgia to stretch its lead even further.
Vanderbilt ended the game with 150 yards, only 45 of which came in the second half.
"[I'm] proud of them," Georgia head coach Kirby Smart said of the defense. "That was an outmanned team. We were better than they were, and we've got to be able to execute when we play people that have equal talent."
I think it would have been easy to expect Georgia to give up more plays in the second half, particularly when the Bulldogs' backups got on the field. Instead, the Bulldogs continued to play to their high standard on the way to another shutout win.
The other tight ends
We've talked about Georgia's riches at tight end this season, but Saturday's game was a perfect example of what the Bulldogs have to offer.
Brock Bowers was more or less a non-factor Saturday and ended the game with 4 receptions for 19 yards. Two other tight ends had more of an impact in the passing game, as Darnell Washington put on a show with 4 receptions for 78 yards and Arik Gilbert came in late and had 2 receptions for 16 yards and a touchdown.
Washington has been an important part of the Georgia offense heading into Saturday, but against Vanderbilt he shined and put on a show. Gilbert, meanwhile, has been someone fans have been cautiously hoping would get involved, and we saw against the Commodores what he can bring to the table.
You can bet No. 19 will play a bigger role in the games to come, but on Saturday he took a backseat and the drop-off was very minimal.
A much-needed break ahead
I would imagine Smart and the rest of the staff are breathing a collective sigh of relief entering the bye week.
Georgia is 7-0 and now has a chance to reset and, more importantly, heal up before what will be a taxing final five games of the regular season. The Bulldogs have a number of players they need to heal up before they return to the field on Oct. 29 against Florida — namely running back Kendall Milton, wide receiver AD Mitchell, defensive tackle Jalen Carter and inside linebacker Smael Mondon — and now they have the perfect opportunity to do just that.
It's naive to think all of Georgia's banged-up players will be back to 100% in a week's time, but now is the optimal time to heal up and for everyone to take a valuable step back before the games to come. The Bulldogs will still be working hard in the coming days, but the benefit will be not having another physical game to suit up for a week from today.