New Jersey arts and entertainment news, features, and event previews.
November 25, 2022
NEWS | FEATURES | PREVIEWS | EVENTS
originally published: 11/24/2022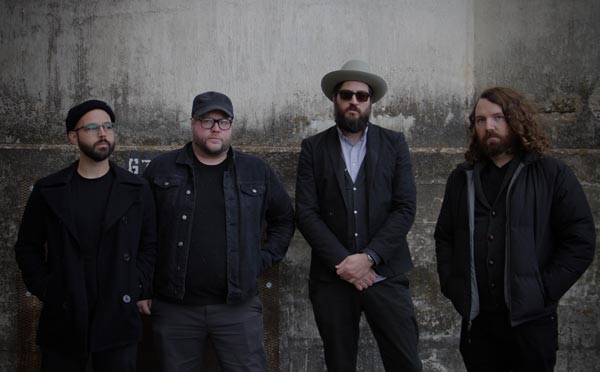 Picnic Lightning is a punk rock band from Fort Worth, Texas. Their music has also been called southern gothic psych. The Penguin Rocks presents this interview with Picnic Lighting.
The band describes their music as raw and brooding desert punk, the sound of summer heat and dimly lit clubs.  Dark, post-everything wall of sound howls like a dust storm, delivering a spiritual stomp that dwells in the shadowland of trenchant questions and orphic revelations.  
They point to 'Over My Head' as a good track to show off the band's sound.  Dreamy, massive post-rock soaked in vocal harmonies, with lyrics that attempt to express their spiritual journeys/matters of the soul.
Who are the members of the band and what instrument do they each play?
We've got Thomas Ketchersid on vocals, guitar, Cole Watkins on lead vocals and guitar, John Lenox Cope on bass and vocals and Cameron "Rogers & Cammerstein" Navarro on drums and vocals.
Advertise with New Jersey Stage for $50-$100 per month, click here for info
---
How long has the band been around? Is there a story behind the band name?
We formed in 2013 but a few of the boys have been playing music since the early aughts. The name, Picnic Lightning, comes from a brief moment towards the beginning of the novel, Lolita; a simple description of the death of the main character's mother. 
Thomas is an avid reader and accomplished poet, and he suggested this to the group as an effective phrase to capture an intense, immediate event forcing its way into the audience's attention, and we felt this captured the tone of our music.
Tell me about your latest record. What songs are you most proud of on the record?
These songs were all recorded with Taylor Tatsch at Audistyles Studio down in the Texas Hill Country and his production really helped to elevate these songs to a new level. We're really proud of these singles we're releasing overall and his collaboration has helped us to capture the tone and vibes we were really looking for. We're most proud of 'Pre-Pangea' and 'Six Feet Under'.
How many records, eps, or singles has the band put out in total? How has the band changed over time?
We started with the Gilded Youth EP in 2014, a self-titled LP in 2016, and then these newest singles here in 2022. That first EP is much more punk influenced than we realized at the time. I don't think we can even play some of those songs at the same tempo. Overall, we've relaxed a bit, taking our time to get songs right rather than moving on to the next idea. Tone-wise there's still the same crunchy guitar tones running through, but we've started to put more attention on trying new styles and genres.
What was one of your favorite gigs? What made it memorable?
Advertise with New Jersey Stage for $50-$100 per month, click here for info
---
Our best show was the second time around at the Boiled Owl – a local dive with a tiny makeshift stage in the corner. It was a sticky summer night with a rowdy wall to wall crowd, a great lineup, and good friends.
There was also a time we told John we were all going to dress in formalwear and he showed up looking like he was part of the Party Down cast and we were all in normal clothes. The show itself wasn't anything special, but that event was pretty memorable.
Where does the band regularly play shows? Where would you like to play if you could?
We're based in Fort Worth, so we love the Tulips venue here that's home to a great collection of touring bands. But overall, We're not too picky. A place that has great sound and a fun crown, and we're down to party. Some of the more vibey places like Red Rocks would be neat, and we've heard great things about the South American scene.
What would be the "next step" that you'd like to see the band take?
We're really hoping to take the momentum of these next singles and start to tour, COVID-permitting. Being able to get out and play the songs with the fans, making connections around the country would be a solid next step for us.
Finally, if the band does any cover songs. What artists do you cover? Who would be an artist you haven't covered yet that you'd like to cover?
We've covered Lorde's, The Smiths, Radiohead, and JJ Cale. We haven't spent tons of time in the past focusing on covers as we usually use them as warm ups during practice or writing, but recently we've noticed that covers can be a good exercise to try new styles. We do have a cover of 'Killer Tofu' by The Beets, from the 90s cartoon Doug.
You can follow Picnic Lightning on Instagram, Facebook, Twitter, Bandcamp, and YouTube.