Brighton v Manchester United: Premier League – live!
May 7, 2022
Free V Bucks
Free V Bucks Generator
Free V Bucks
Free V Bucks Code
Free V Bucks
Free Robux
Free Robux Code
Free Robux
Free Robux Generator
Free Robux
Free TikTok Followers
Free TikTok Followers Likes
Free TikTok Followers
Free TikTok Likes Followers
Free TikTok Followers
Pennsylvania primary
Pennsylvania primary
Pennsylvania primary
Pennsylvania primary
Pennsylvania primary
Pennsylvania primary
Pennsylvania primary
Pennsylvania primary
Pennsylvania primary
Pennsylvania primary
Pennsylvania primary
Pennsylvania primary
Pennsylvania primary
Pennsylvania primary
Pennsylvania primary
Pennsylvania primary
Pennsylvania primary
Pennsylvania primary
Pennsylvania primary
Pennsylvania primary
Pennsylvania primary
Pennsylvania primary
Pennsylvania primary
Pennsylvania primary
Pennsylvania primary
Pennsylvania primary
Pennsylvania primary
Pennsylvania primary
85 min: Bissouma needlessly clanks Fred to the floor near the right-hand touchline. Fernandes curls the free kick in for Maguire, who attempts to bundle home, but the flag goes up for offside. To be fair, United have been much improved since going four behind but … well, I won't insult your intelligence by pointing out the problem inherent in that.
83 min: Trossard makes way for Maupay.
81 min: Cucurella is allowed to dribble down the middle, unchallenged, for a good while. United are fortunate that only Welbeck has kept up with him, and the attack eventually breaks down. United's lack of tracking back speaks volumes.
79 min: A free kick for United out on the left as Fred is clipped by Veltman. It's in a dangerous position just to the side of the Brighton box, but Fernandes flaps a poor one straight down Sanchez's throat.
78 min: The teamsheets are in at Anfield, by the way. Barry Glendenning has all the details.
76 min: As if United haven't been troubled enough, here comes the livewire Tariq Lamptey. He replaces March.
75 min: Telles crosses from the left. Sanchez claims. The Amex bounces. What an atmosphere!
74 min: Fernandes has a strike from distance. Sanchez claims without any fuss. "Surely the sadness was that it had taken so long to bake the cake in question," writes Jimmy Webb John Little. "This united team looks like something a bunch of students cooked up after closing time on an end-of-term Friday."
72 min: Dalot whistles a low cross in from the right. Bissouma stops it getting to Ronaldo by conceding a corner. Fernandes takes it long. Maguire wins a header and sends the ball towards the bottom left. Sanchez sticks out a strong hand. The ball bounces back to Maguire, who sends a low shot across the face of goal. Cavani turns it in by the right-hand post, but he's clearly offside. He drop-kicks the ball away in frustration.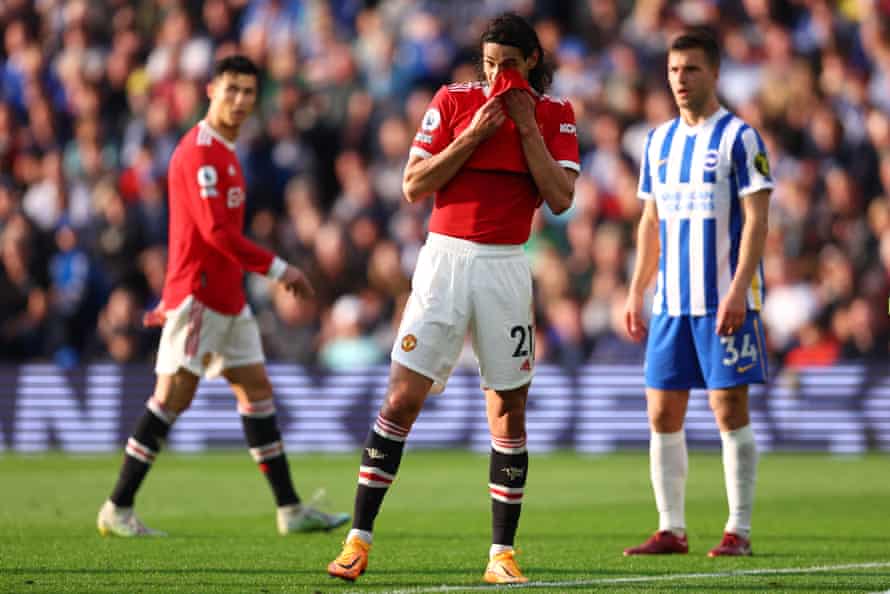 71 min: Ronaldo slices an ambitious effort wide. Then speak of the red devil … here comes Maguire. He replaces Mata.
70 min: It's been a good day for Harry Maguire, if nobody else associated with United. "This United team is well beyond tactical analysis for me," begins Matthew Richman. "The level of professional effort from this team is deplorable, and it's a small wonder why. I wouldn't be too motivated to play my heart out for a club molded more around marketing prestige than on-pitch success, backed by disliked and largely absent owners. I've been a Manchester United fan my whole life, and I will always be so despite all reason, but there is so little that is likeable about this club these days."
68 min: Fernandes takes a pop from distance. His shot is deflected wide left. Corner. The set piece is worked long to Fernandes, who sends a screamer through a thicket of players but straight at Sanchez, who parries. Brighton have been sensational today, and Sanchez has more than done his bit.
67 min: One corner leads to another. Before it can be taken, Mac Allister makes way for Webster. The second corner is cleared confidently by De Gea.
65 min: It should be five. Gross and Mac Allister pour through a huge gap in the United defence. Mac Allister is waiting to tap home near the left-hand post, when Dalot arrives and takes the ball off his toe. It pings off the base of the post and out for a corner. United look punch drunk.
63 min: "You're not fit to wear the shirt." Not sure who's singing that, whether it's the United fans berating this rabble, or Brighton supporters taking the mick. It could be either or both, couldn't it. United try to respond, Mata crossing from the left, Cavani flashing a header goalwards. Sanchez parries clear. Nothing's going United's way.
62 min: There's a long VAR check, but the ball hit Trossard in the midriff. Welbeck wasn't offside, either. The referee points to the centre circle, and can anybody believe what's going on here?!
GOAL! Brighton 4-0 Manchester United (Trossard 60)
Brighton's fans give it the olés … then, if that's not embarrassing enough for United, Gross slips a pass down the inside-right channel for Welbeck, who enters the box and looks to lob De Gea. Dalot acrobatically scoops off the line, but only slams the ball into Trossard's chest. Trossard trundles home, and United are falling to bits like cake left out in the rain. Oh no nooo!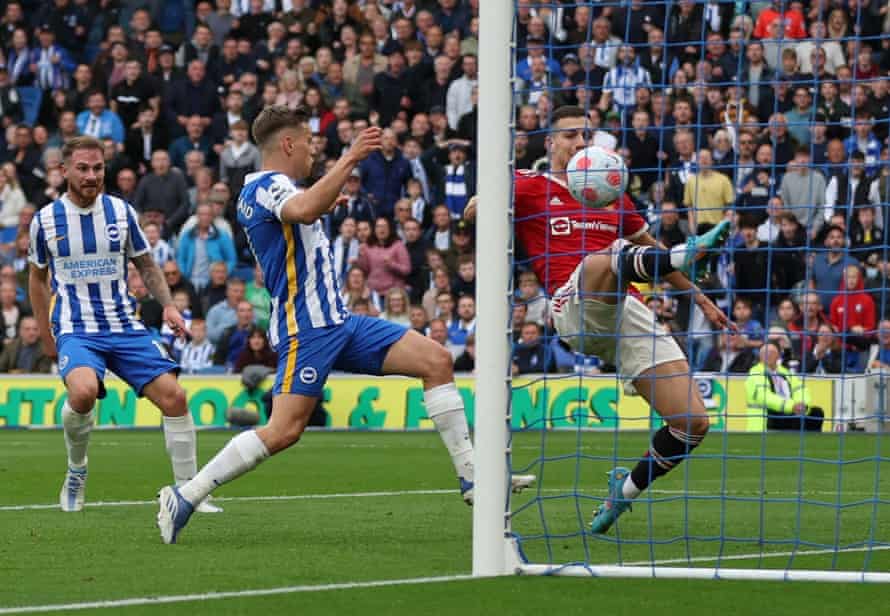 58 min: Ronaldo reacts to the goal by shrugging his shoulders and smiling wryly. What can a man do?
GOAL! Brighton 3-0 Manchester United (Gross 57)
This is an astonishing goal! Sanchez sprays a diagonal pass towards Cucurella on the left touchline. Cucurella traps and rolls infield for Trossard, who strolls into United's box and lays off for Gross, who takes a touch to round Varane on the left, then steers a shot across De Gea and into the bottom right. A peach of a move!
56 min: Mata latches onto a poor clearing header from Veltman. On the edge of the D, he swivels and volleys the dropping ball straight down Sanchez's throat. A decent effort out of not very much, by some distance United's best this evening.
55 min: Mata's speculative ball forward is headed out by Dunk for a corner. The set piece is a nervy shambles which Dalot tries to rescue with a shot from distance. Miles over the bar. The camera catches De Gea up the other end; he wears the look of a man who can't believe what's going on in front of him.
53 min: Mata crosses from the left. Cucurella eyebrows the ball away from danger. Brighton counter. Welbeck probes down the left. He's forced to check back, but then Gross releases March down the right with a cute backheel. March's low cross is hacked clear by Lindelof.
51 min: In fact, a three-goal lead wouldn't flatter Brighton, and they nearly get it as Trossard twists and turns his way down the left, reaching the corner of the six-yard box. He can't find a team-mate with his dinked cross and United clear their lines. The visitors are all over the place at the back.
GOAL! Brighton 2-0 Manchester United (Cucurella 49)
A first Brighton goal for Cucurella … and what a goal! A throw on the right. Mac Allister chests down and fires low through the six-yard box. Trossard retrieves the ball on the left and cuts back for Cucurella, who roofs a rising thrash into the top left! Brighton deserve this scoreline.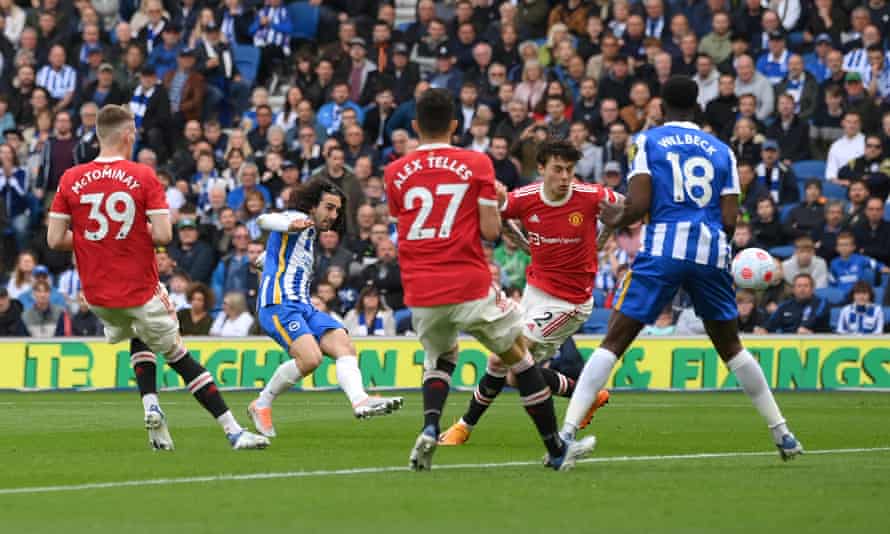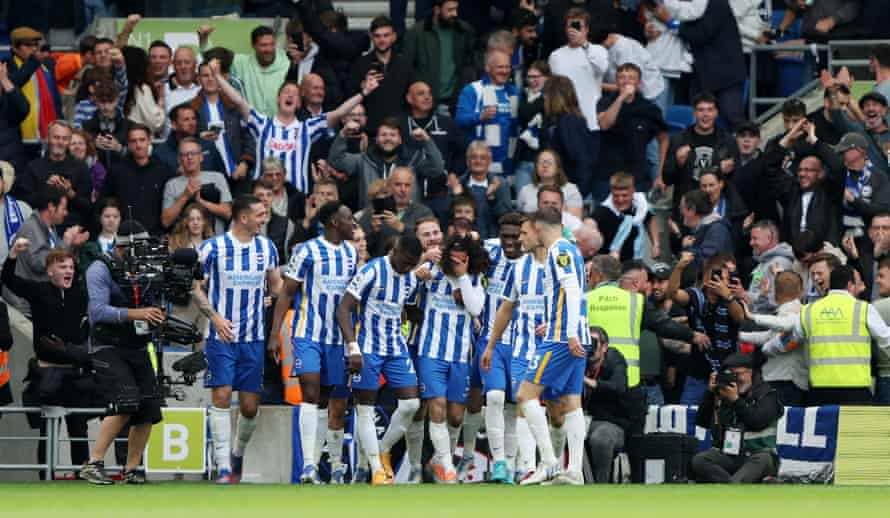 47 min: Dalot goes into the book for a reckless, frustrated slide on Mac Allister.
Brighton get the second half underway. United have been behind at half-time on nine previous occasions this season: they've gone on to lose seven and draw two. Hoping to buck this trend, they've brought on Cavani and Fred in place of Matic and Elanga. "Mata, Matic. and Bruno means Man U are pretty slow footed in midfield," begins Gene Salorio. "Not exactly a good fit for the counters that Rangnick mentions in your lead-in to the MBM. Solskjær was limited but I remain mystified as to how Rangnick is an improvement."
A lovely moment at half time. As Iain Pearson mentioned on 17 minutes, Brighton saved their league status 25 years ago at Hereford's expense. The club was on its uppers back then, with so much on their mind that they didn't get round to naming a player of the year. That's been fixed now with a fan vote, and Stuart Storer has been named as 1996-97 player of the year. All smiles, he was handed a silver platter as reward. Wonderful scenes.
Half-time entertainment. A big, potentially season-defining game at Anfield follows this match. Barry Glendenning will be on MBM duty, but in the meantime, here's Barney Ronay's preview.
HALF TIME: Brighton 1-0 Manchester United
This scoreline flatters United. Brighton are passing around them at will. If they don't get their act together, they'll lose their fifth away game in a row, the sort of sequence they've not suffered since the days of Dave Sexton.
45 min: Ronaldo is booked for a poor sliding tackle on Dunk. It wasn't malicious, simply mistimed to a comical degree, Ronaldo clipping his opponent's ankle in slow-motion instalments. Action ideally accompanied by slide whistle and cymbal.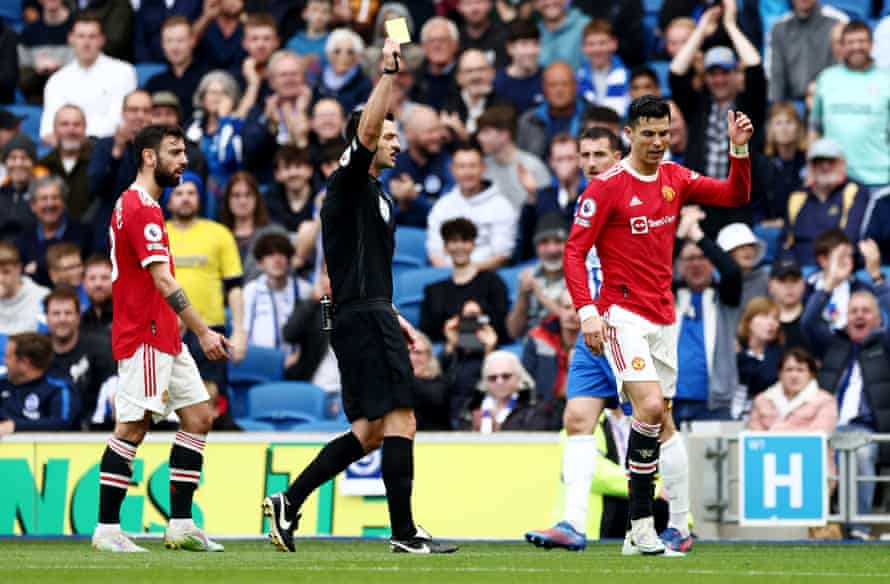 44 min: Mac Allister, March, Bissouma and Gross draw some pretty triangles down the inside-right channel and nearly open United up. Mac Allister is caught offside.
43 min: Sanchez larrups long. Varane miscontrols, with De Gea on walkabout. Welbeck nips in between the pair and tries to lob the stranded keeper. He gets too much on it, the ball floating over the bar. Big chance to double Brighton's lead.
42 min: United make a meal of clearing the free kick, and Brighton want a penalty for an alleged McTominay handball. Neither referee nor VAR shows any interest.
41 min: A frustrated Matic needlessly barges March in the back, and this is a free kick just to the right of the United penalty area. Everyone loads the box. Gross to take.
40 min: Gross shovels a pass down the right to release March into acres of space. Fortunately for United, March's cutback is no good.
39 min: Ronaldo hoofs an awful free kick miles over the bar. The home fans jeer/ cheer ironically.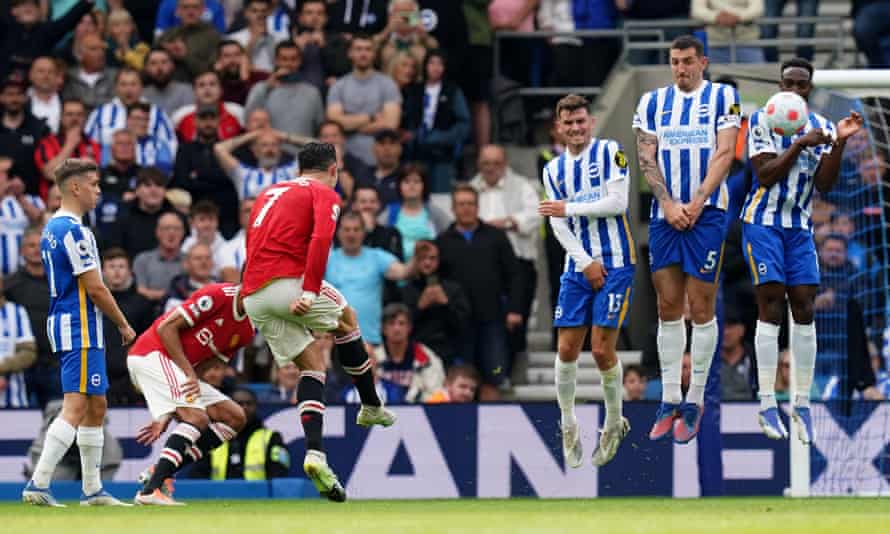 38 min: Fernandes dribbles down the centre and is clumsily clipped by Caicedo. A free kick, 25 yards out, in a central position. Ronaldo's eyes light up.