French Open 2022: Auger-Aliassime and Muguruza in action on day one, Thiem and Jabeur out – live!
May 22, 2022
Kanepi has, eventually, held; it's 2-2 in the decider, and Muguruza will be rueing her inability to convert those break points. It'd be very her to lose her own serve now…
Muguruza holds from 15-40 down – she's doing what she needs when she desperately needs to, and consecutive forehands onto the line give her 30-all. This is another really fun match – women's tennis is so enjoyable at the moment because there are so many talented players – and Muguruza earns herself a break point, only to send a return long. Another follows and this time, Muguruza defends well, but can't stick in the point; no matter, she forces another shy, Kanepi yanks her back again, then on Chatrier, Varillas wears two saved break points before converting his third! He now leads Auger-Aliassime 6-2 5-2! What a shock we've got on the cards here!
Goodness me, Varillas is on one here, racing to 0-40 with three points for the double break … but Auger-Ailassime saves them all then closes out the hold. Can that spark him into life? He trails 2-6 2-3 while, on Lenglen, Isner took the first set against Halys on a breaker and we're on serve at 2-3 in set two.
Has Muguruza gone? In double-quick time, she trails 0-40 in the opening game of the decider, saving the first break point with a banging forehand down the line. Kanepi then goes long, and Muguruza wins the next three points too for her hold. She leads 1-0 in the decider, and will be encouraged by how she took hold of herself there.
With a look of intense disgust, Muguruza saves Kanepi's first set point, but a forehand onto the baseline is too good at that's five games in a row, delivering to her the second set! Muguruza was leading 2-0 and 15-40, so Kanepi decided to be more aggressive, and now look! Muguruza 6-2 3-6 Kanepi
Hello! Kanepi breaksa again, and out of nowhere, we got ourselves a ball-game! That's the thing with Muguruza the speed at which she can collapse – and Kanepi will now serve for the second set at 5-3! And as for Varillas, he's still playing beautifully, reaching to take a volley from above his shoulder on the backhand side in the process of breaking for a 6-2 2-1 lead! Auger Aliassime is in all sorts!
Schwartzman, the number 15 seed, has just taken set three to lead Kuznetsov 6-3 1-6 6-4.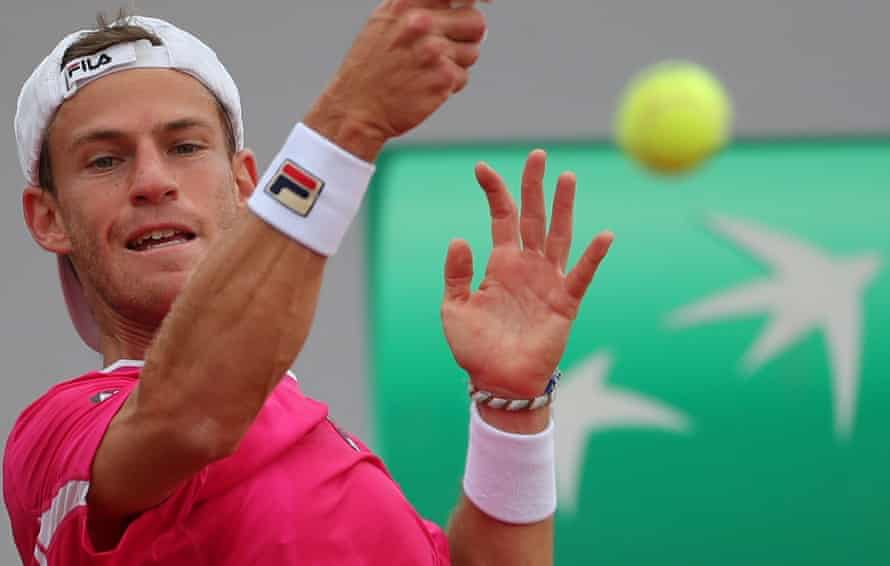 Muguruza lets a ball that looked like dropping long go, it dips in, and we're back on serve at 3-3 in set two – Muguruza having taken the first 6-2.
Varillas gets to 40-30, Auger-Aliassime nets a forehand return, and that's the set! Varillas was extremely animated all the way through it and he celebrates with some grand fist-pumping. He's playing like someone who knows he's in the form of his life, and doesn't intend on wasting it; we are cooking! Auger-Aliassime 2-6 Varillas
Auger-Aliassime holds, so Varillas will have to serve for the first set. He's been so confident and pumped so far, but this is different gravy. Can the 26-year-old Peruvian see it out?
On Lenglen, Isner and Halys are at 5-5 in set one, whole a decent hold from Kanepi keeps her deficit at a set and a break. But the best of the action is on Chatrier, where Auger-Aliassime still trails Varillas; he's serving at 1-5 and deuce.
Varillas is all over Auger-Aliassime! A wild backhand sliced wide, and the qualifier leads the number nine seed 4-1!
Muguruza breaks again at the start of set two, and Kanepi is getting absolutely rousted here; as I type that, the consolidation is achieved, and the lead is 6-2 2-0.
Muguruza breaks again for 5-2, then serves out. She's looking good though, at 35, Kanepi is well past her best. Auger-Aliassime, meanwhile, is on the board, 2-1 down to Varillas – who has a break.
Kanepi is struggling to close out games but a large backhand gets her 2-3; can she make an impression on the Muguruza serve? She can, but at 30-40 a backhand drops long and Muguruza closes out to lead 4-2 while, on Chartier, Varillas has broken Auger-Aliassime at the first time of asking. That's the thing with qualifiers – the'y're confident, and used to the conditions.
Auger-Aliassime and Varillas take to Chatrier.
She's also already a break up, and consolidates to love for 3-1. Meantime, Diego Schwartzman is away, the number 15 seed winning the first set against Andrey Kuznetsov 6-3 – but trailing 1-5 in the second.
It's still raining a bit, but Kanepi and Muguruza are still at it. The latter is one of the best players on tour, and her talent demands more than the two majors she's got. She won in Paris in 2016, but since making the Aussie final in 2020, she hasn't done better than round four of a slam, and that's only happened twice.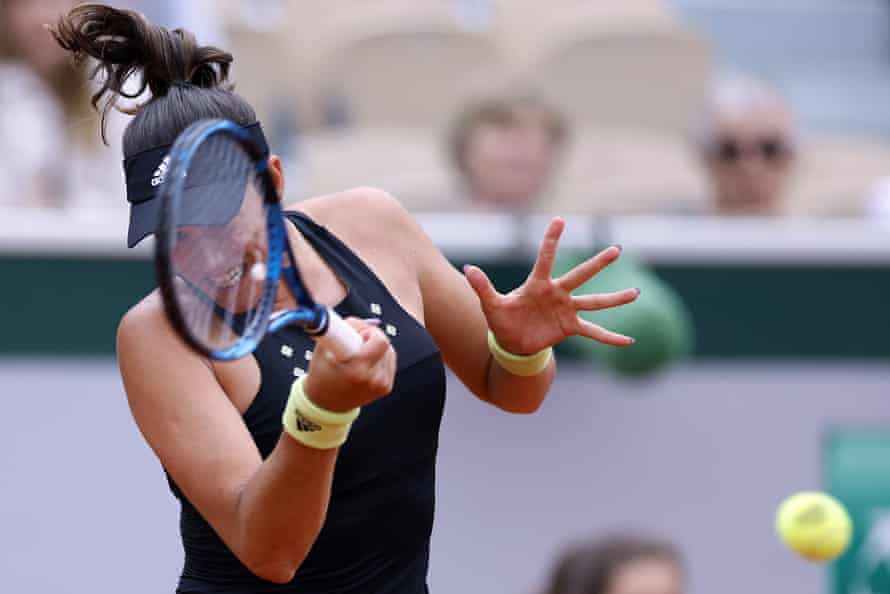 Back to Jabeur, I feel for her. She's had such a great season and I'm shocked she lost that from a set up, as she really started to play at the business end of the first. She'll be hurting something fierce.
On Mathieu, Muguruza and Kanepi are away. That should be a great match, so I'll watch that and, when they're out, Auger-Aliassime v Varillas.
Linette says she tried to increase he racket-speed after the first set, but we don't get much tennis chat as it's far more important she be incited to praise the crowd, who then praise themselves.
Magda Linette beats Ons Jabeur [6] 3-6 7-6(4) 7-5!
That is the win of Linette's career and a colossal shock! Jabeur has been so good lately, and looked to have found the consistency that meant this stuff didn't happen to her. But she's gone! Linette meets Dart or Trevisan next.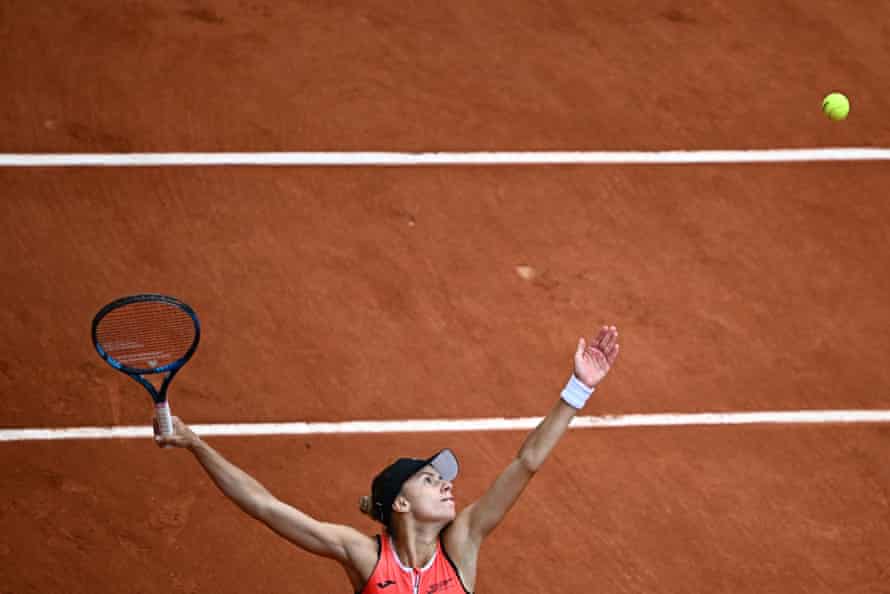 Linette gets back from 40-0 to deuce, and Ons serves a double! Match point Linette!
Stephen is through, beating Niemeier 5-7 6-4 6-2. But she'll need to improve a lot to do anything here, because that wasn't a great performance, at all. She meets Cirstea next.
Linette holds easily, so Jabeur must now serve to try and force that breaker. Jabeur obviously has the game to win it, should it happen, but she's not the better player currently. Oh, and it's raining again, more heavily than before.
Meantime, Niemeier is now playing some tennis, and if she can hold here – she trails 7-6 4-6 2-5 – Stephens will start to winder.
The rain seems to have chilled out, but Linette and Jabeur have not, again at deuce on the latter's serve. She finds a first serve when she needs one, though, and a wild backhand return gives us 5-5 in the decider. If we get to 6-6, it'll be a 10-point breaker to settle things.
I meant to say, Dimitrov beat Giron 1,1 and 1; he meets Coric or Taberner next, with the former currently leading 6-2 2-3. Back on Chatrier, Linette holds for 5-4, so Jabeuar will now serve to stay in the competition.
Jabeur's first serve hasn't been there for her today, and she's soon hitting a second at 15-40; this is a chance for Linette, but she can't find the return, and eventually a forehand punished down the line closes the gap. A big serve follows and that gives us deuce, quickly converted into 4-4 while, on Lenglen, Stephens – who's not won a match since March – leads the injured Niemeier 5-0 in the decider, having ceded just one point in the set. Jabeur 6-3 (4)6-7 4-4 Linette
Dellien has beaten Thiem 2,3, and 4; he was really solid today, more than earning the right to meet Borges or Khachanov next. Thiem, meanwhile, needs to play matches – his best shots are there, but the consistency is miles away.
Linette whams a backhand into the top of the net, and Jabeur has her break-back! she's found something when she needed it most – that's the new Ons I was talking about earlier! She now trails 3-4 in the decider while, on Lenglen, Stephens leads Niemeier 3-0 in the decider and it's raining pretty heavily.
Linette misses two forehands in a row, but at 30-40, hangs in there, skids into a drop, and puts away the overhead; that is excellent behaviour, but at advantage, Jabeur takes a backhand return early, hauling it cross-court, then finds a drop set up by a whipped forehand, that saves the next game point. Increasingly, it feels like the match is here…
Niemeier is struggling with injury here – her left thigh is heavily strapped, and she's even struggling to walk properly. It's 1-0 Stephens, on serve, in the decider.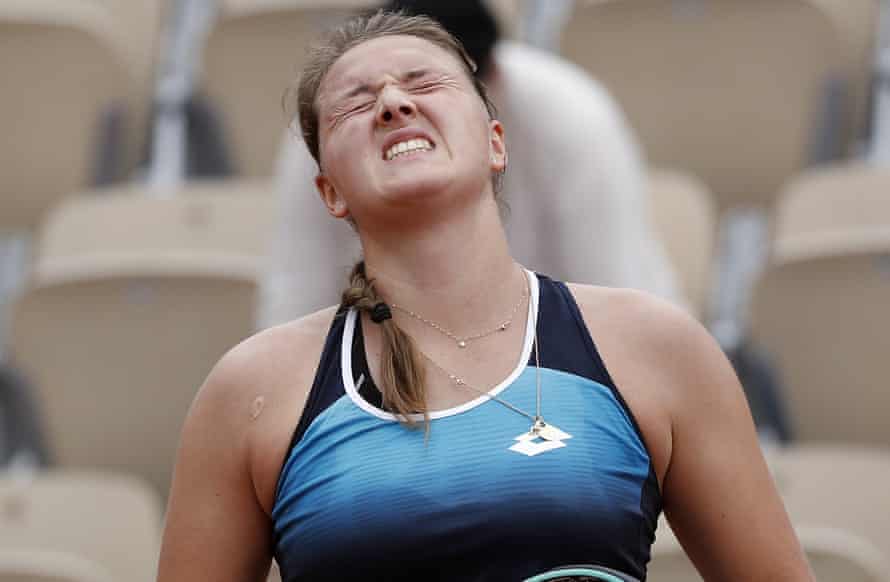 Linette breaks Jabeur and now leads 4-2 in the decider! She's been superb today, especially in this set and especially given she's injured, while Ons looks extremely displeased with life.