Rafael Nadal limps to Shapovalov defeat in blow to French Open hopes
May 13, 2022
Rafael Nadal's hopes of being healthy and in form by the French Open took a significant blow late on Thursday as he struggled badly with his chronic foot injury and lost 1-6, 7-5, 6-2 to a resilient Denis Shapovalov in the third round of the Italian Open.
After a fractured rib forced Nadal to miss the start of clay season, the Spaniard had been in a race against time to gain sufficient matchplay for the opening slam of the season. But an even greater impediment was the flareup of the foot injury that had forced him out of the game for six months last year. Nadal finished the match unable to properly move, limping and grimacing between points as he continually gestured in frustration to his team.
"I am a player living with an injury," said Nadal, who made a point of congratulating Shapovalov. "That's it. No, no, it is nothing new. It's something that is there. Unfortunately my day-by-day is difficult, honestly. Even like this, I am trying hard. Of course, it's difficult for me to accept the situation sometimes, no? It can be frustrating that a lot of days I can't practice the proper way. Then today halfway through the second set [the pain] starts, then [it] wasn't playable for me."
With the French Open starting on Sunday week, Nadal explained that his foot is unpredictable and he does not know how he will be. "I don't know if I rest, I don't know if I maybe practice," he said. "But I still [have] a goal in one week and a couple of days. I'm going to keep dreaming about that goal."
Earlier, the world No 1, Novak Djokovic, comfortably defeated his old foe Stan Wawrinka 6-2, 6-2. Wawrinka had reached the third round after clinching his first two wins in his comeback after a one year layoff due to two foot surgeries.
The last time Wawrinka stood across the net from Djokovic, his victory in their 2019 US Open quarter-final unlocked a notable achievement. While Djokovic had dominated their rivalry since they were teenagers, they then split the results in eight subsequent matches. For that brief period, they not only stood on an equal record but most of Wawrinka's wins had been under the greatest pressure, deep in the final rounds of his three career-defining grand slam title runs.
Those days are gone. Having already had knee surgery in 2017, 14 months ago Wawrinka underwent the first of two surgeries on his left foot and was out for a year. His comeback has been long and arduous in the time since, but he took several steps forward by beating the world No 17 Reilly Opelka in Rome this week, reaching the third round and setting up an unexpected meeting with Djokovic.
Rather than another one of their endless battles, the distance between them was a reminder of how far Wawrinka still has to go as he looks to return to something near the top of the game at 37 years old. In 75 minutes, Djokovic comfortably defeated his old foe to reach the quarter-finals.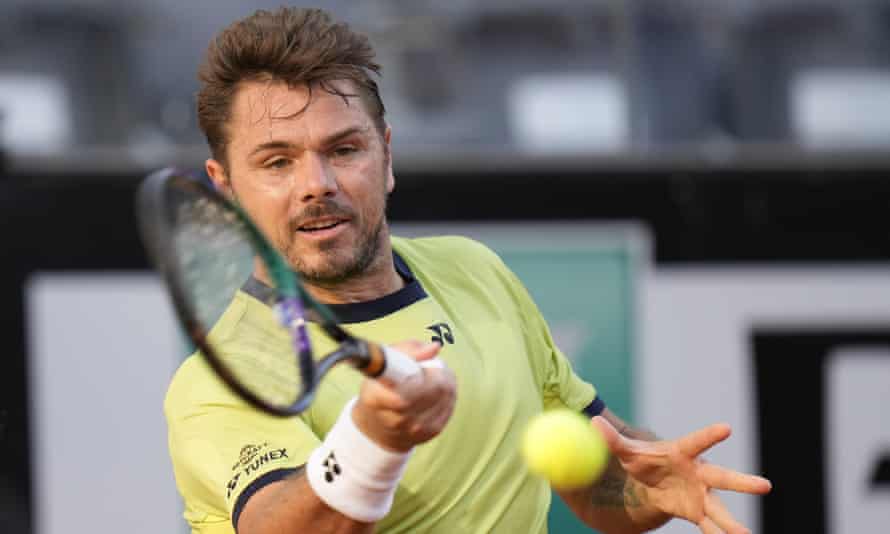 "Only he knows how difficult it was with all the surgeries and injuries he had to deal with," said Djokovic. "So of course you can see on the court that he's slower than he was when he was playing at his best. I'm sure with his team he's doing his best to get himself in the best shape, but it takes time."
The comeback is one of the toughest tasks in tennis, requiring players to shake off the frustration of their struggles in the early stages of their return, absorb the positives and move on. After his first two wins in a year, Wawrinka will find solace in the progress he has made since he was flattened by Elias Ymer, the world No 139, at an ATP Challenger event in Marbella six weeks ago.
As Djokovic faces Félix Auger-Aliassime in the quarter-final on Friday, Wawrinka's comeback heads to home soil in Geneva next week: "I need those matches," said Wawrinka. "I need the competition. You cannot practice that feeling of nerves, stress, the way you feel during the match, the way the body reacts."
Meanwhile, uncertainty continues to reign in the wake of Wimbledon's decision to ban Russian and Belarusian players from their tournament. The ATP player council has recommended that the ATP withholds its ranking points from Wimbledon, with both ATP and the WTA to make a final decision shortly. Earlier in the week, Rafael Nadal, a member of the player council, declined to comment on the situation, only saying that his job in the council is to "work in the benefit of every single player that we are representing
On Thursday morning, the French Open tournament director, Amélie Mauresmo, explained in a radio interview with France Inter why the event will continue to allow Russian and Belarusian athletes to compete there next week.
"We have thought a lot, and I have the impression that there is no fair decision, one way or the other," said Mauresmo. "We are in line with what European sports ministers have decided, we do not welcome teams but individual athletes. Obviously if an athlete speaks in the press for example and supports Vladimir Putin, there will be sanctions."