Yorkshire v Lancashire, Kent v Surrey and more: county cricket – live!
May 14, 2022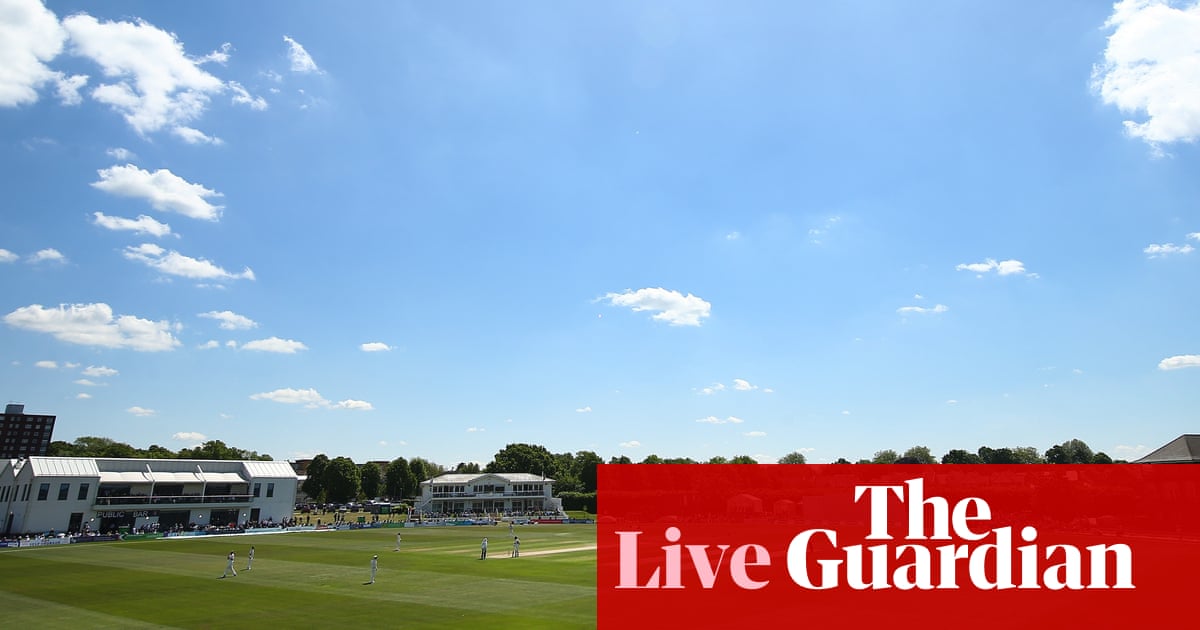 Somerset have stuck Gloucs back in to have another go. After skittling them for 186. The cidre lads lead by 400 and some and are well in command at Bristol.
At Headingley, Joe Root has moved serenely to 67* but at 197/5 and a current deficit of 369 runs Yorkshire will need him to bat and bat and bat some more.
Spare a thought for Kent… they've just lost Darren Stevens, bowled by Jamie Overton after lunch with sarnies barely digested. They are now six wickets down and trail by a whopping 537 runs. The follow on target of 521 looks a looooooong way away. JOverton is bowling with real venom and Will Jacks looks as if he could get a wicket with every ball, a posse of cream-clad hyenas surrounding the bat.
Men in white coats are starting to appear on my many screens, I'm going to stretch my legs and make a brew, keep an eye on things for me won't you?
Cheese and pickle sarnie time as I cast my eye around the stream highlights, this has made me chuckle over my cheddar:
Division Two
Durham 311 & 140/3 (47) Glamorgan 365
Durham lead by 86 runs with 7 wickets remaining
Nottinghamshire 415 & 113/3 (30) Middlesex 195
Nottinghamshire lead by 333 runs with 7 wickets remaining
Leicestershire 210 & 11/0 (6) Sussex 450
Leicestershire trail by 229 runs with 10 wickets remaining
Worcestershire 368 Derbyshire 381/6 (106)
Derbyshire lead by 13 runs with 4 wickets remaining
Division One
Northamptonshire 597/6 dec Warwickshire 162/3 (73)
Warwickshire trail by 435 runs with 7 wickets remaining
Lancashire 566/9 dec Yorkshire 171/5 (52)
Yorkshire trail by 395 runs with 5 wickets remaining
Somerset 591/7 dec Gloucestershire 186/8 (74)
Gloucestershire trail by 405 runs with 2 wickets remaining
Surrey 671/9 dec Kent 116/5 (48)
Kent trail by 555 runs with 5 wickets remaining
Luke Fletcher giving the stattos something to purr over…
There's fifteen minutes til lunch, I'll do a sweep of the grounds then. In the meantime, the esteemed Gary Naylor has popped up in my inbox:
"Jim -it's obvious, just now, that Matt Parkinson spins the ball hardest and Jamie Overton bowls the ball fastest. If neither is picked at Lord's, it will be a travesty – it's not like they're trying to break into a settled, successful team."
The non-selection of Parkinson has been a particular head-scratcher, I reckon he'll get a go this summer under the Ben/Brendon axis.
I've got eyes on Joe vs Jimmy but also on Beckenham where Jamie Overton is bowling with some real gusto, with 'gas' as the kids might say. There's drama as he clocks Ben Compton on the helmet and the Kent batters' lid comes clean off and plops onto the stumps. Surrey celebrarte the wicket (and show some cursory concern for Compton) but Compton is given NOT OUT. Something to do with the helmet not being on his person as it broke the stumps which I think is a recent rule change?
As I type this up from a few moments ago, Compton has been snared by Will Jacks for 47, the off spinner has picked up a brace this morning. Kent in strife at 97/4.
RUN OUT KLAXON
James Taylor (not this one) was spotted by Tanya at Headingley yesterday. I'm sure there will be a few keen eyes on young Jacob Bethell too:
I'm enjoying Ramps' punchy columns. Here's his latest:
Pope plucks a beauty in Beckenham! Daniel Bell-Drummond departs in Jamie Overton's first over, a thick edge to second slip that the young Pope swoops and scoops off his toes. Kent are two down and the small matter of SIX HUNDRED runs behind. Gulp.