Portugal v Ghana: World Cup 2022 – live | World Cup 2022
November 24, 2022
Key events
45 min: Otavio mishits a cross from the right into the Ghana penalty area and sends the ball over the bar.
44 min: Joao Cancelo whips the ball across the Ghana penalty area with extreme prejudice but it's behind everyone in a red and green shirt.
42 min: Ronaldo gives up the chase for a cross from the right because the ball's too high for him to head. Oblivious to the fact that Joao Felix is behind him, he switches off and is unable to adjust his feet when his strike partner sidefoots the dropping ball his way.
40 min: Any time Ghana find themselves with a goal-kick, Portugal's front three line up in such a way as to dissuade their opponents to risk playing out from the back. It's a tactic that's working as, forced to kick the ball long instead, they keep gifting possession straight back to Portugal.
39 min: And they say Ronaldo doesn't defend, eh? Eh?!?!?!?
37 min: Ghana win a corner, their first of the game. Kuddus delivers the ball to the near post, where Ruben Neves heads clear. The ball drops for Kuddus, who sends it into the mixer again. Fernandes heads the ball out for another corner, which Ronaldo heads clear.
36 min: An extremely feeble shot from Otavio rolls into the waiting arms of Ati-Zigi, who had time to drop to his knees to claim it.
35 min: Salisu plays the ball towards Inaki WIlliams, just to remind the Ghana striker what it looks like as it's been so long since he's had a sighting of it. The pass is underhit and Portugal reclaim possession.
33 min: Andre Ayew heads the ball out for a Portugal corner, which Otavio takes. He floats a high ball into the Ghana penalty area, where goalkeeper Lawrence Ati-Zigi leaps to claim it with both hands.
31 min: Ronaldo latches on to a pass from Felix, spins away from Alexander Djiku and gets the ball in the Ghana net with a tidy finish but is penalised for a shove on the defender in the build-up. It was a foul but a fairly inoccuous one; Ronaldo looks suitably aggrieved and the deadlock remains unbroken.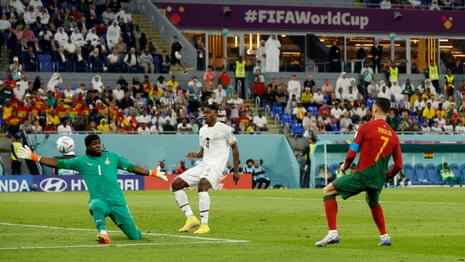 30 min: A Brino Fernandes free-kick from deep into the Ghana penalty area is underhit and headed clear.
28 min: Joao Cancelo sends a cross from the left into the Ghana penalty area but it's overhit and sails towards Bernardo Silva on the far wing. He tees up Joao Felix for a shot on goal with a ball inside but the Atletico Madrid man sends his effort high and wide.
26 min: A Guerreiro cross into the box from the left is headed clear by Amartey after good work by Fernades and Ronaldo for Portugal in the build-up.
25 min: Otavio tries to pick out a Bruno Fernandes run with a speculative ball from deep. He's not quite accurate enough and the ball goes out of play for a goal kick.
24 min: Andre Ayew wins a free-kick, drawing a foul from Ruben Neves halfway inside his own half. Ghana take it and immediately cede possession again.
23 min: Daniel Amartey fails to clear an Otavio dink with any conviction and is immediately put on the back foot, under pressure from Joao Felix on the ball. The Portuguese tries and fails to pick out Ronaldo in the penalty area.
22 min: Ghana spread the ball from one side of the pitch to the other and get forward courtesy of Andre Ayew, who ends up playing it back to Seidu.
19 min: Ghana right-back Alidu Seidu is penalised for a bodycheck on Raphael Guerreiro out by the touchline and Portugal win a free-kick. Nothing comes of it. The match is being played at a quite pedestrian pace and could perhaps do with an injection of intensity.
18 min: Mohammad Kudus has looked decidedly ropey in these early stages, playing a withdrawn role in the Ghanaian midfield but he does well here, getting the ball forward before spreading it wide.
16 min: Inaki Williams tries to latch on to an excellent long ball from the back played by Mohammed Salisu but his first touch lets him down.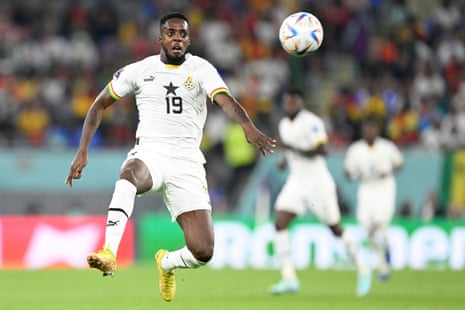 12 min: A cross from the left and Ronaldo rises unmarked at the far post. The ball's on a plate for him and he simply can't miss … but somehow he does, sending his downward header the wrong side of the upright with half the goal gaping.
11 min: Bernardo Silva and Otavio combine down the inside-left but the latter's shot from distance is blocked by a defender.
9 min: Now Ghana goalkeeper Lawrence Ati-Zigi is quick off his line to deny Ronaldo, diving at the Portuguese captain's feet to smother the ball. Ronaldo had been played in behind after Kudus had given the ball away again with a heavy touch, but was unable to lift the ball over the onrushing goalkeeper.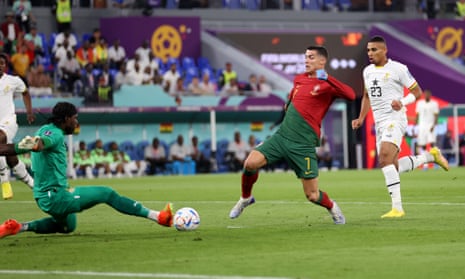 7 min: Portugal continue to enjoy the majority of possession but have yet to create anything in the way of a goalscoring chance. For their part, Ghana are the fifth and final African team to play in this tournament and hope to become the first to score. Kudus gets a cross into the Portugal box from the left but Diogo Costa is quick off his line to gather.
5 min: Ghana right-back Alidu Seidu takes a throw-in halfway inside his own half but his side quickly give the ball away courtesy of a misplaced Daniel Amartey pass. Portugal are dominating these early stages. Now Momhammad Kudus gives the ball away, allowing Ruben Neves to get a shot away. It's blocked.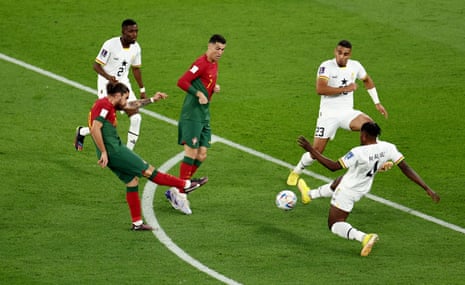 3 min: Ghana have lined up in a 5-3-2 while Portugal are playing a 4-3-3. THe Euyropean side win the first corner of the game after good work down the left flank by Raphael Guerreiro. The inswinger is headed clear at the near post and bounces nicely for Octavio, who lashes a shot well wide.
2 min: Portugal ping the ball hither and yon until Ronaldo takes a heavy touch and concedes a free-kick while trying to win the ball back near the halfway line. Mohammed Salisu sends the ball forward and it's headed clear on the edge of the Portugal penalty area.
1 min: Cristiano Ronaldo gets the ball rolling for Portugal, their players wearing red and green shirts, olive green shorts and red socks. The players of Ghana are a vision in all white kit. Game on!
Not long now: The teams march out of the tunnel behind American referee Ismail Elpath and his team of match officials. Auditioning for a new club now that he is officially "unattached", Cristiano Ronaldo leads out Portugal. Andre Ayew wears the captain's armband for Ghana. It's time for the national anthems.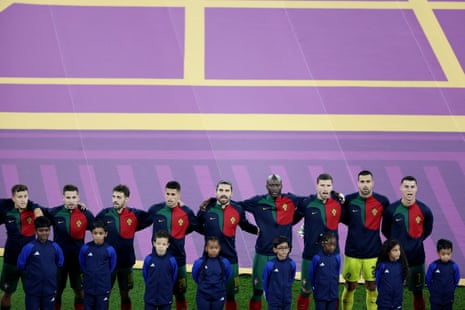 Ghana: It's difficult to know what to expect from Ghana, who are outside the top 60 of Fifa's rankings and had an unspeakably bad African Cup of Nations in January, finishing bottom of their group with just one point, suffering the humiliation of defeat at the hands of Comoros along the way.
That disastrous showing earned Ghana head coach Milovan Rajevac his P45 and he was replaced with the former Borussia Dortmund midfielder Otto Addo. Still employed by the Bundesliga side as a scout, he promptly steered Ghana through a World Cup play-off against Nigeria. Former Brighton manager Chris Hughton, former Dutch international George Boateng and former Nordsjælland coach Mas Dramani are also part of Ghana's new leadership structure.
Portugal v Ghana starting line-ups
Portugal: Diogo Costa, Joao Cancelo, Danilo Pereira, Ruben Dias, Raphael Guerreiro, Ruben Neves, Bernardo Silva, Bruno Fernandes, Otavio, Joao Felix, Cristiano Ronaldo.
Ghana: Lawrence Ati-Zigi, Abdul-Rahman Baba, Daniel Amartey, Alexander Djiku, Mohammed Salisu, Alidu Seidu, Thomas Partey, Salis Abdul Samed, Mohammed Kudus, Andre Ayew, Inaki Williams.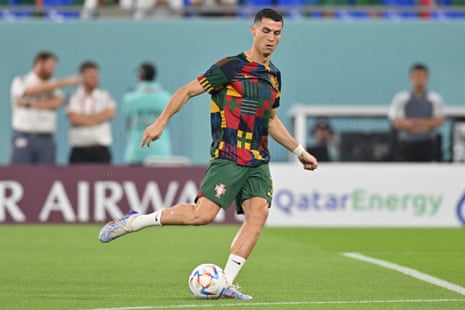 Portugal: Coach Fernando Santos says squad are as integrated as they have been in years despite the enduring soap opera. Nick Ames reports from Doha.
Interview: "That's when I went to talk to my grandad. I told him there was a chance that I could play for Ghana at the World Cup and what did he think. He said straight away that he didn't have long left to live and he dreamed of his grandson playing for Ghana. There was nothing left to think about then." Sid Lowe discovers finds out what changed the mind of an initially reluctant Inaki Williams and convinced him to declare for Ghana, the country from which his parents hail and in which he was conceived.
Portugal's manager speaks: "Winning a tournament like this is extremely difficult for any team, for any country," said Fernando Santos. "You only need look at these first few games to see that clearly. I was watching the Croatia-Morocco game just now, and you see very even contests.
"That's because most of the players are in the same leagues. Against Ghana, for instance, two or three of their players are adversaries of Bruno [Fernandes, who was sitting alongside him] in the same championship. They play for big teams and are used to the tactical issues at play. In the past you would see a difference, but nowadays you don't, especially as all the coaches are of an extremely high level.
"We are prepared for opponents that will cause us a lot of problems. Ghana are a very well organised team. Their game against Switzerland showed that. African teams have a lot of talent, unpredictability, and are always improving tactically. Today they are much more complete teams."
On the Ronaldo palaver: "Will it take away our focus?" he asked. "No, it won't. I haven't even heard the players talk about it at any time here, at training, during leisure time, when they're playing games such as table football, not even Ronaldo himself. Maybe in their rooms they turn on the TV, they talk to their families, they do what they want.
"But what's important is the total focus I see in my players and a fantastic spirit, very in tune with what they have to do, what our goals are, while at the same time aware of the difficulties that we will face because they have a realistic outlook."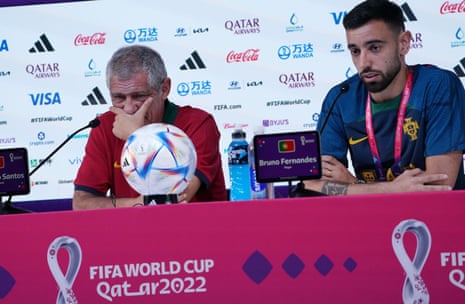 Ghana's manager speaks: "We have quality and can compete," said Otto Addo. "We have to be brave and self confident. We have seen in some of the upsets that little things decide the games and we expect it to be the same against Portugal."
Asked if he thought the hoop-la surrounding Cristiano Ronaldo's departure from Manchester United would have an effect on today's game, Addo had this to say. ""I don't know and to be honest I don't care. This is not our problem and I don't think it's a big problem. Everybody wants to win and no matter what happens it's a big stage a big game at the World Cup level. So I don't think normally this can disrupt anybody."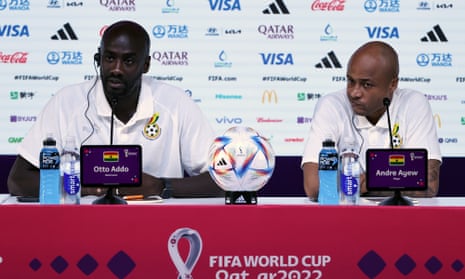 Today's match officials
Referee: Ismail Elfath

Assistant Referees: Kyle Atkins and Corey Parker

Fourth Official: Stéphanie Frappart

Video Assistant Referee: Armando Villarreal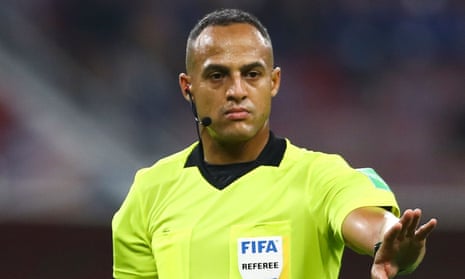 Early team news
Diogo Jota's absence from the Portugal squad due to a calf injury means team manager Cristiano Ronaldo Fernando Santos is likely to start Bernardo Silva and one of Joao Felix or Rafael Leao up front alongside His Lordship, while there are concerns over the fitness of PSG left-back Nuno Mendes.
Along with a backroom team that features Chris Hughton and George Boateng, Otto Addo is believed to have no injury concerns and will deal his starting XI from a full deck. He will be forced to choose an inexperienc ed goalkeeper after Charlton's Jojo Wollacott and the South Africa-based Richard Ofori were ruled out of this World Cup through injury. Lawrence Ati-Zigi (2), Manaf Nurudeen (2) and Danlad Ibrahim (0), Ghana's three goalkeepers in Qatar, have just four senior caps between them.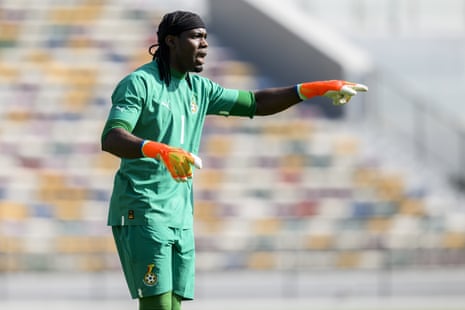 Group H: Portugal v Ghana
Built from shipping containers and other bits and bobs, the temporary arena that is Stadium 974 plays host to today's Group H encounter between Portugal and Ghana. Much as he would like it, Cristiano Ronaldo has been dominating the headlines in the build-up to this game and will be under pressure to deliver in the wake of that interview with that man, an act of insubordation that resulted in him severing ties with Manchester United earlier this week. A massively self-regarding cog in a team brimful of talents that often seem cowed in his presence, it remains to be seen whether Ronaldo will be more help than hindrance as team embark on this World Cup campaign.
In Qatar on the back of a play-off win against Nigeria, Otto Addo's Ghana come into this tournament on the back of friendly wins over Nicuragua and Switzerland, which came in the wake of a 3-0 defeat at the hands of Brazil. There is a suggestion that Addo doesn't know his best side, but received a boost in September when Brighton right-back Tariq Lamptey, who qualifies for the Black Stars through his father, decided to declare for Ghana.
Lamptey joins his fellow Premier League players Mohammad Salisu (Southampton), Daniel Amartey (Leicester City) and Thomas Partey (Arsenal) and Jordan Ayew (Crystal Palace) in the Ghana squad. Like Lamptey, Athletic Bilbao's Inaki Williams also declared for Ghana in recent months at the behest of his grandad and various Ghanaian officials. The striker's parents crossed the Sahara in search of a new life in Spain when "Kweku" was still in his mother's womb. Interestingly, Inaki's younger brother Nico came on as a sub for Spain in their demolition of Costa Rica yesterday.
Anyway, enough introductory chat – kick-off in Doha is at 4pm (GMT) but stay tuned in the meantime for team news and build-up.