Russian missiles batter Ukraine as signs emerge of further retreat
November 16, 2022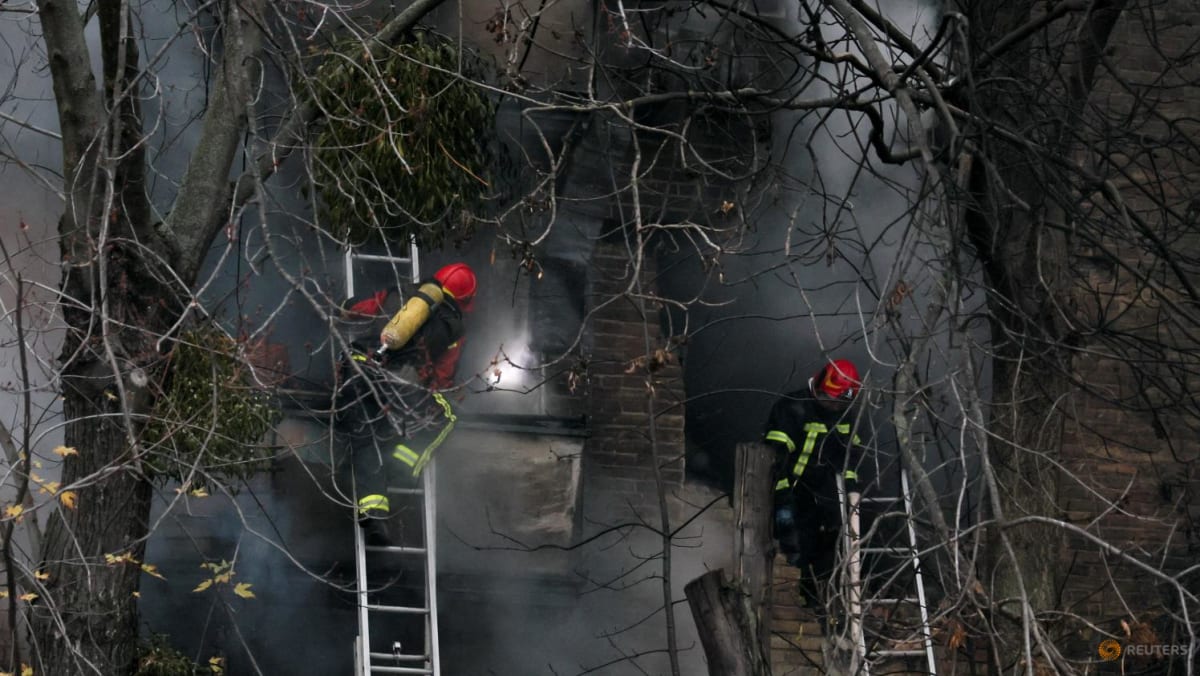 NO LET-UP
A day after visiting Kherson to celebrate the victory there, Zelenskyy told world leaders there would be no respite in Ukraine's campaign to drive Russian troops out of his country.
"We will not allow Russia to wait it out, build up its forces, and then start a new series of terror and global destabilisation," he said in an address by video link to a summit of the G20 major economies in Indonesia.
"I am convinced now is the time when the destructive Russian war must and can be stopped."
Tuesday's air strikes follow a pattern Russia has maintained since mid-October of carrying out long-range missile and drone attacks on Ukrainian cities after battlefield losses to a sustained Ukrainian counter-offensive in the east and south.
Moscow has said it is targeting energy infrastructure.
EMPTY ROAD
Before quitting Kherson last week, Russia had said it was moving its forces across the Dnipro to better defend territory including the approaches to the strategic Crimea peninsula, which Russia has held since 2014.
But in video filmed in Oleshky, across the river from Kherson on the main highway about two hours' drive to Crimea, there was no sign of a Russian presence.
A driver raced down the deserted main road for miles at high speed without encountering a single Russian checkpoint or flag. Several bunkers set up along the road appeared to have been evacuated. The location of the video was confirmed by Reuters based on visible landmarks.
In Nova Kakhovka, the Russian-installed administration said on Tuesday civil servants had left to escape shelling, "and were relocated to safe areas in the region".
There were no confirmed reports of Ukrainian troops crossing the river to pursue the Russians. But some analysts said Ukraine might try to press its battlefield advantage rather than take a so-called "operational pause".
"Ukraine has the initiative and momentum and is dictating to the Russians where and when the next fight will be," said Philip Ingram, a former senior British military intelligence officer.
The war was one focus of the G20 summit, where Western leaders denounced Moscow. Russia is a member and Ukraine is not, but Putin stayed home.
Speaking to the gathering, Zelenskyy reiterated longstanding demands that Russia withdraw all forces, free all prisoners and reaffirm Ukraine's territorial integrity in exchange for peace.
He proposed indefinitely extending a programme to safeguard Ukrainian grain exports to help feed poor countries, expanding it to the port of Mykolaiv, newly beyond reach of Russian guns after the Kherson advance.
Western countries sought a summit declaration that would condemn the war despite Russian opposition and a lack of unanimity. Diplomats circulated a 16-page draft that said: "Most members strongly condemned the war in Ukraine and stressed it is causing immense human suffering and exacerbating existing fragilities in the global economy."
Foreign Minister Sergei Lavrov, Russia's delegation head in Putin's absence, accused the West of trying to politicise the declaration.