World Cup 2022: Brazil get their groove on as the last-16 ties conclude – live | World Cup 2022
December 6, 2022
Key events
If you woke up this morning with a burning desire to see Jack Grealish and Declan Rice pinging the ball across a swimming pool to each other while just wearing shorts, then today is your lucky day.
Fifa has highlighted a couple of quotes on their website ahead of the 3pm GMT kick-off today between Morocco and Spain.
It features Luis Enrique, with defeat to Japan clearly on his mind, saying: "If against Morocco we have the fortune to go in front, Morocco will risk it all at full pelt again. We have to show more strength in the moments when the opposition is pressing us."
And the website quotes Morocco forward Zakaria Aboukhlal saying: "I am very happy to have reached the last 16. We do not want to stop here. We want to go further and, God willing, we will keep going. We are very happy for Moroccan fans. We see many people who came here from Morocco. I would like to thank them.
"I am very happy with the way Arabs here are helping one another. We were happy when Saudi Arabia defeated Argentina. We also felt when we defeated Belgium and Canada that other Arab countries were happy for us."
Germany team director Oliver Bierhoff agrees to leave post after Qatar failure
Germany team director Oliver Bierhoff has become the first casualty of their first-round World Cup exit in Qatar after agreeing to leave his post two years before his contract ends, the DFB said on Tuesday.
Reuters reports that former Germany international Bierhoff, who had been in his post as team director for the last 18 years, was widely criticised following their second consecutive shock early exit at a World Cup. His post was concerned with the public relations aspect of the team as opposed to coaching responsibilities.
"Oliver Bierhoff has won a lot of merits for the DFB," said DFB president Bernd Neuendorf in a statement. "Even if the last few tournaments lagged behind the sporting goals that had been set, he will be associated with big moments."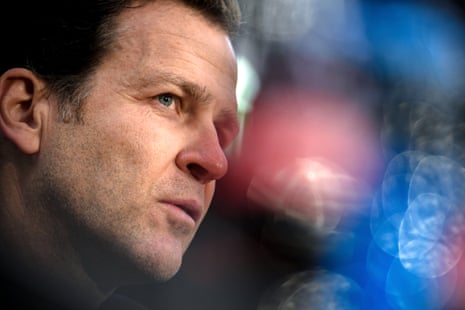 Bierhoff played a part in helping Germany win the last of their four World Cup titles in 2014 and Neuendorf said his efforts would not be forgotten.
"He will always be linked with the World Cup success in Brazil," he added. "Even in turbulent times he always followed goals and visions."
Germany crashed out of the group stages at both the 2018 and 2022 World Cups, and failed to advance past the round of 16 at Euro 2020. They will be hosting the next European championships in June and July 2024.
Jacob Steinberg is in Doha for the Guardian, and today he has tackled the subject of England's teenage sensation – Jude Bellingham:
He was outstanding when England beat Iran in their first game at the World Cup, opening the scoring with a beautiful header, but he was even better against Senegal. It was Bellingham who carried England when they went through a rocky period during the first half against the African champions. He whipped up the fans, urging them to make more noise. He won back possession. Eventually Bellingham drove through the Senegal defence and calmed England's nerves by setting up the opening goal for Jordan Henderson.
It was ridiculous. At one stage Bellingham picked up Harry Kane and told the England captain to put a missed chance behind him. This is not normal teenage behaviour. English football loves its mavericks but Bellingham does not really fall into that category. He is on the path to superstardom but there is no sign of the fame going to his head. It is rare to see him lose his cool on the pitch. He focuses on making the team better and lets his talent create the headlines.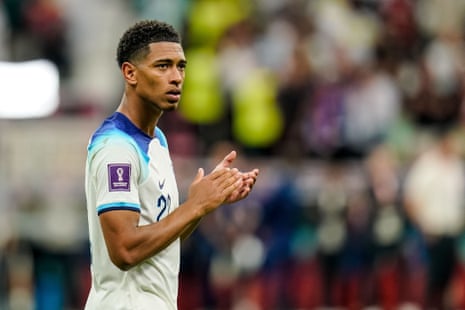 Read more here: Jacob Steinberg – Jude Bellingham: England teenager with maverick gifts but a steely focus
Morocco will be hoping for more scenes like this later today.
Speaking of Lionel Messi, Reuters has a report from Melbourne this morning that Australia midfielder Cameron Devlin did not play a minute of the World Cup but left Qatar with one of its biggest prizes after exchanging jerseys with Argentina's number ten after their round of 16 match.
Devlin, who plays for Hearts in Scotland, swooped after the Socceroos were knocked out 2-1, with Argentine talisman Messi scoring a goal in his 1,000th match.
"I went on and consoled all the boys first and then shook Messi's hand," Devlin told reporters at Sydney airport after arriving back from Qatar.
"No one had said anything so I just tried my luck and he said, 'I'll see you inside,' and that's what happened. (I wanted) one of the other boys to have the opportunity first, but no one took it, so I thought why not?" said the 24-year-old Devlin.
"I don't know if (mine) will be on his wall at home or maybe still on the ground in that changing room but I'm not fussed – it's more that I got his. I was surprised he even took mine. He definitely wouldn't know who I am, but he's a nice enough bloke and a humble enough bloke to still show that respect."
Argentina will be back in action on Friday, in a mouth-watering quarter-final clash with the Netherlands, which will evoke memories of the 1978 final at the Estadio Monumental in Buenos Aires. Former England defender Anita Asante writes for us today that Lionel Messi is thriving off the responsibility of creating a fairytale World Cup swansong:
It's almost like he has a gravitational pull and he himself has a gravitational force, pulling and twisting and managing the movement of the ball like it's a part of his orbit. He has such a continuity in his movement when he's on the ball, when he's dribbling with that close-ball control with such effortless grace. His first touch, which is nearly always sublime, means he doesn't ever give you an inch of space. Often as a defender you're counting on putting pressure on at the first touch, if it's a poor touch you have a chance of stopping them. However his first touch is often so good that defenders are stopped dead in their tracks, and he's able to just skip by them.
One of the only ways to defend against Messi is to do it in numbers. I would want to pull in the defenders around me, drag my wing-back in, have my centre-back close to me, maybe my deep-lying central midfielder offering support and focus on trying to get in the way of those passing lines that he so often finds. But the problem is that he also thrives in those situations. He sucks players towards him. He wants three or four players swarming him with pressure and when that happens he finds the pass. He knows where the space is, he knows where his spare man is, and he'll find him. If it's not that, he's drawing the foul and then we all know what he can do with a free-kick.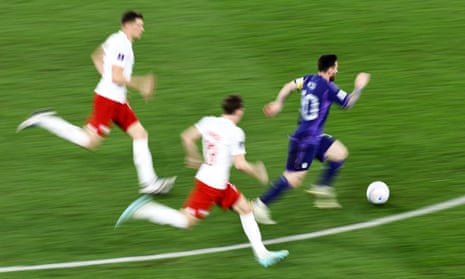 Read more here: Anita Asante – Messi is thriving off the responsibility of creating a fairytale World Cup swansong
You were probably off doing something fun, but straight after Brazil's domineering performance against South Korea yesterday, we locked Max Rushden, Barry Glendenning, Lars Sivertson, Jordan Jarrett-Bryan and Ben Mabley into the Guardian Football Weekly pod until they had properly discussed it for your further delight. You can listen to the episode here …
We now know that one side of the draw pits the Netherlands, Argentina, Croatia and Brazil together, while the other features France, England, and whoever comes out on top of today's two games, which look set to be very entertaining.
Morocco face Spain at 3pm GMT at the Education City Stadium in Al Rayyan. Spain's boss described losing to Japan in the group stages as "a punch in the face", so heaven knows how Luis Enrique would take a defeat to his country's African neighbours. Loyalties will be tested in the Spanish exclave of Ceuta that sits at the northern tip of Morocco. For their part, it is Morocco's second ever trip to the second round, and their coach Walid Regragui is bullish about their prospects. "Why shouldn't we spring a surprise?" he asked the media yesterday.
The Cristiano Ronaldo soap opera rolls back into town for 7pm GMT, where Ronaldo + Portugal face Switzerland. The Swiss emerged from their group after a fiery encounter with Serbia which saw Fifa open more charges against the Serbs amid some ugly scenes from Serbian fans. Switzerland haven't graced the quarter-finals since hosting the tournament in 1954. Portugal's coach Fernando Santos said he can't guarantee Ronaldo will be captain today, and he'll decide his team when he gets to the stadium. Which sounds … sub-optimal.
Join me for the buildup to all that, plus the fall out from yesterday's penalty shootout horror show for Japan against Croatia, and Brazil's "stop, stop, he's already dead" moment against South Korea. I'll probably mention England as well along the way. Do drop me a line at martin.belam@theguardian.com