World Cup 2022: reaction to Messi's magic and buildup to France v Morocco semi-final – live | World Cup 2022
December 14, 2022
Key events
Club football is beginning to intrude. Erik ten Hag has said he does not know when Jadon Sancho will return to action with Manchester United, saying there are "physical but also mental" issues to deal with.
The forward started the season well with three goals before the international break in September, but has not played since United's 1-1 draw at Chelsea on 22 October. Ten Hag said he had seen a notable dip in Sancho's confidence after the 22-year-old was left out of the England squad for the Nations League matches in September.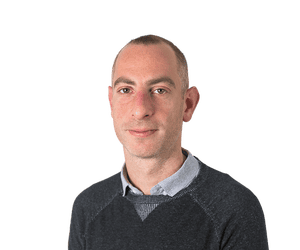 Ed Aarons
Ed Aarons writes for us this morning on the making of the Atlas Lions who have seized this tournament and made it their own:
Osian Roberts, now assistant manager at Crystal Palace, signed up as the Royal Moroccan Football Federation's technical director in 2019, and the two years he spent in the job mean he is looking on from afar at the team's remarkable World Cup achievements with particular excitement and satisfaction.
"I was absolutely convinced and wanted to be fully onboard because of the passion the football association president Fouzi Lekjaa has for football in Morocco – that's what sold it to me," says Roberts. "It wasn't just a wish or a dream. There was a plan behind it in order to achieve success. For me it was just a wonderful opportunity to develop football further in Morocco and become one of the leading nations in Africa that everybody could aspire to work towards. It almost felt like an obligation for me to jump on the bus and drive it forward."
The Atlas Lions will make history on Wednesday when they become the first African team to contest a World Cup semi-final. Led by the Paris-born manager Walid Regragui, a side made up of homegrown stars including the dashing midfielder Azzedine Ounahi and barnstorming striker Youssef En-Nesyri, and players drawn from the country's wide diaspora, such as Hakim Ziyech and Achraf Hakimi, face the world champions, France. According to Roberts, their success is no accident.
Read more here: Ed Aarons – 'Expectation had to be raised': the making of World Cup heroes Morocco
Last night was one of those evenings where I feel for people who don't enjoy football. Tense and tight, and then suddenly the breakthrough. I actually let out an involuntary "Oh my god what a goal" when Julián Álvarez scored Argentina's second. The drive. The determination. He had just steamrollered his way through the Croatia defence and was not taking no for an answer.
Then you watch it in slow-motion, and you realise it involves a series of lucky touches off of defenders back into his path and he just about keeps it under his control before the finish. The fine margins at this level are unbelievable. What a goal. What a time and place to score it. The official highlights are here – the first Álvarez goal starts about 55 seconds in.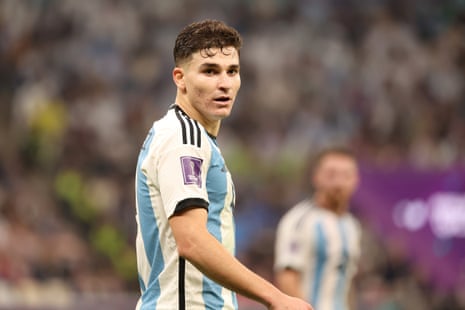 Morocco's national airline cancels fan flights to Doha citing 'restrictions imposed by Qatari authorities'
What would the day of a World Cup semi-final be without a little bit of organisational chaos? Reuters reports that Morocco's national airline said it was cancelling all flights it had scheduled for Wednesday to carry fans to Doha for the World Cup semi-final, citing what it said was a decision by Qatari authorities.
"Following the latest restrictions imposed by the Qatari authorities, Royal Air Maroc regrets to inform customers of the cancellation of their flights operated by Qatar Airways," the airline said in an emailed statement.
The Qatari government's international media office did not immediately respond to requests for comment from Reuters.
Royal Air Maroc (RAM) had previously said it would lay on 30 additional flights to help fans get to Qatar for Wednesday night's semi-final game against France but on Tuesday a source at a RAM travel agency said only 14 flights had been scheduled.
The cancellation of Wednesday's seven scheduled flights means RAM was only able to fly the seven flights on Tuesday, leaving fans who had already booked match tickets or hotel rooms unable to travel. RAM said it would reimburse air tickets and apologised to customers.
Yesterday fans were queueing up outside the ticket outlet in Qatar, where the Moroccan football association was distributing free tickets for tonight's match to fans. It said it had bought up the remaining unsold tickets to give away. Morocco have been one of the best supported teams during the course of the tournament.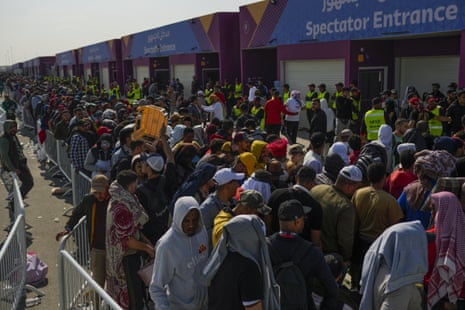 The magnificent Football Weekly podcast has been slightly wrongly named during this tournament, as we've been keeping Max and the gang up at all hours to analyse events nearly every day. Last night was no exception. Join Max Rushden, Barry Glendenning, Nicky Bandini, John Brewin and Marcela Mora y Araujo to hear them discuss Argentina's breathtaking victory last night.
One down. One to go. Tonight at 7pm GMT at the Al Bayt Stadium in Al Khor we will find out whether it will be France or Morocco who are going on to face Argentina in the World Cup final on Sunday. What a prospect.
I think everybody expected the Croatia v Argentina match to be a tight a cagey affair, just as it was for the first thrity minutes. But then Argentina absolutely did a number on the Europeans – what a performance and what goals. Who would back against them winning the tournament now?
And who would have bet that at this stage, with three teams in the mix, Morocco would be the only unbeaten team that remains? They have seen off Croatia, Belgium, Spain and Portugal without conceding a goal. Have they got one more epic performance left in them to see off France? They have injuries and coach Walid Regragui has already said he won't know his team until the last moment.
France are also expected to make injury-inflicted changes, but will go into tonight's match as heavy favourites in a tie that carries a lot of political and colonial baggage and which is generating profound emotions in France, Morocco and across the African and Arab worlds. The organisers would love a final that centres around Mbabppé and Messi – but will Morocco have the last word tonight?
I am Martin Belam, and I will be bringing you all the fallout from last night, all the buildup to tonight, and all the other World Cup news, gossip and silliness that I can muster. Drop me a line to martin.belam@theguardian.com.